"Horizon Blue"

2019 Japan Nigata Takada-sekaikan "Kanazawa Film Fest 2019" host:Kanazawa Film Fest ※DCP
2019 Japan Tokyo CinemaHouse-Otsuka host:Kiryukan ※Blu-ray
   *Screening on October 12, 2019 was canceled due to Typhoon No.19.
2019 Japan Nagoya Cinemaskhole "Kanazawa Film Fest encore special"
    host:Kanazawa Film Fest and Cinema Skhole ※Blu-ray
2020 Japan Asagaya Neo-Shobo host:Neo-Shobo ※Blu-ray
2020 Japan Himeji ーQuiet Holiday host:Animation Runs! ※Blu-ray
   *Screening on April 25, 2020 was canceled due to COVID-19.




"MIDORI"

1992 Japan Tokyo Ontake-jinjya *16mm 8mm video
1992 Japan Tokyo Shibuya-panteon Tokyo International Fantastic Film Festival *16mm video
1992 Japan Tokyo An apartment basement
1993 Japan Kyoto Space Benget
1993 Japan Tokyo Nagatani engei-jyo
1993 Japan Tokyo Nakano Hikariza
1994 Japan Tokyo Roppongi Haiyuza
1994 Japan Tokyo Nakano-musasino-hall
1994 Japan Osaka Cinema Verite
1994 Japan Kyoto Space Benget
1994 Japan Fukuoka Office nuberubarg
1994 France Orleans Japan film festival
1998 Norwegian Short film Festival
1998 Germany Copenhagen film house
1998 Germany Hamburg Alabama-kino
1998 Germany Leipzig Kulturhaus nato
1998 Germany Berlin Kino eiszaeit
1998 Germany Berlin Kino central
1998 Germany Munich Werkstattkino
1998 Norwegian Norway Cinema-teket
1998 Norwegian Norway Filmens hus
1999 Canada Montreal Fantasia film festival
1999 Spain Horror fantasy film festival
1999 Japan Tokyo Nanbara-kikaku jimusyo
1999 Japan Tokyo Shimokitazawa Suzunari
1999 Canada Montreal Horror fantasy film festival
2000 Japan Tokyo Suzunari Kiryu-Jinjya
2000 France Paris Etranger film festival
2001 Canada Vancouver Cinemuerte2001
2002 Japan Osaka Ogimachi museum square
2004 Japan Tokyo Mirano-za Tokyo International Fantastic Film Festival
2005 Hong Kong International Film Festival
2006 France Toulouse Extreme Cinema Festival
2006 Hong Kong Japan Animation & fantasy film Festival
2007 Swiss International Animation Film Festival fantoche 07
2007 Croatia The World Festival of Animated Films Animafest Zagreb 2007
2008 Belgium Off Screen film festival 2008
2010 Yubari International Fantastic Film Festival 2010
2010 United Kingdom 16th Encounters International Film Festival
2010 United Kingdom Japanese film festival"Zipangu Fest"
2011 Eesti Vabariik Tallinn EVA:East via Asia
2012 Kanazawa Film Fest 2012 XXX
2013 Czech Republic The Shockproof Film Festival 2013 *16mm
2013 Kanazawa Film Fest 2013
2013 Kyoto Rissei Syogakkou Special theater -Old elementary school
2017 Kyoto Kanazawa Film Fest 2017 Kyoto Minami Kaikan *16mm
2018 Kyoto Kanazawa Film Fest 2018 Kyoto Minami Kaikan *16mm
2018 Canada Gotta Minute Film Festival 2018 *HD
2020 Japan Nagoya Cinemaskhole "Kanazawa Film Fest encore special" ※Blu-ray




"THE DEATH LULLABY"

1985 Japan Tokyo Sine-plaza space50
1986 Japan Tokyo Shibuya PARCO stage-labo
1986 Japan Tokyo Shibuya PARCO space pate3
1986 Japan Kyoto CBGB
1986 Japan Kagoshima Kyoiku-kaikan -Education Hall-
1986 Italia Turin international film festival
1987 Germany Berlin international film festival
1987 Japan Tokyo Shinjuku Bunka Center -Shinjuku Cultural Center-
1987 Japan Tokyo Theater TOPS
1988 Japan Kyoto JAZZ in Rokudenashi
1988 Belgium Brussels Super8&Video festival
1988 Canada Montreal Young cinema festival
1989 Japan Kyoto-University Seibu-kodo
1989 Japan Tokyo Hitotsubashi-University
1990 Japan Kanagawa Japan Academy Of Moving Images
1990 Japan Shinjyo-shi cinema festival
1991 United Kingdom London Leeds University
1992 United Kingdom The deserted house of the London city
1992 Japan Tokyo Musashino Art University
1993 United Kingdom BRIXTON
1994 Japan Tokyo Bungei-za Ru-pirie
1996 Japan Kyoto METRO
1996 Japan Tokyo Hosei University
1997 Japan Osaka Bears
1997 Japan Tokyo Musashi University
2000 Japan Fukuoka Bar Subway
2000 Japan Kirakyusyu Gallery Soap
2000 Japan Tokyo Uplink Factory
2001 Japan Sendai Media take
2002 Japan Tokyo The Film School of Tokyo
2004 Japan Tokyo Uplink Factory
2004 Japan Kochi The Museum Hall
2008 Belgium Off Screen film festival 2008
2008 Japan Tokyo The Film Center of The National Museum of Modern Art
2009 Japan Tokyo Uplink X
2009 Japan Tokyo Uplink Factory
2010 Japan Yubari International Fantastic Film Festival 2010
2010 Japan Tokyo Uplink Factory
2010 Japan Osaka PLANET+1
2010 Japan Sapporo ATTIC
2010 United Kingdom 16th Encounters International Film Festival
2010 United Kingdom Japanese film festival"Zipangu Fest"
2011 Eesti Vabariik Tallinn EVA:East via Asia
2013 Czech Republic The Shockproof Film Festival 2013
2013 Japan Nagoya Theatercafe "Midori no HI Part2 Musashino Art University a special"




The visual of the festival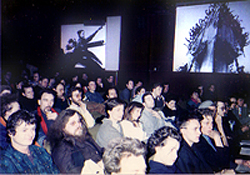 1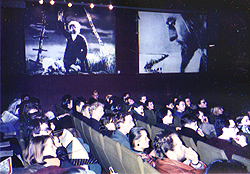 2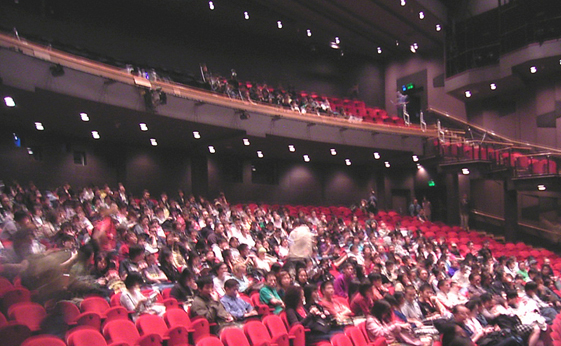 3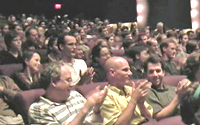 4

5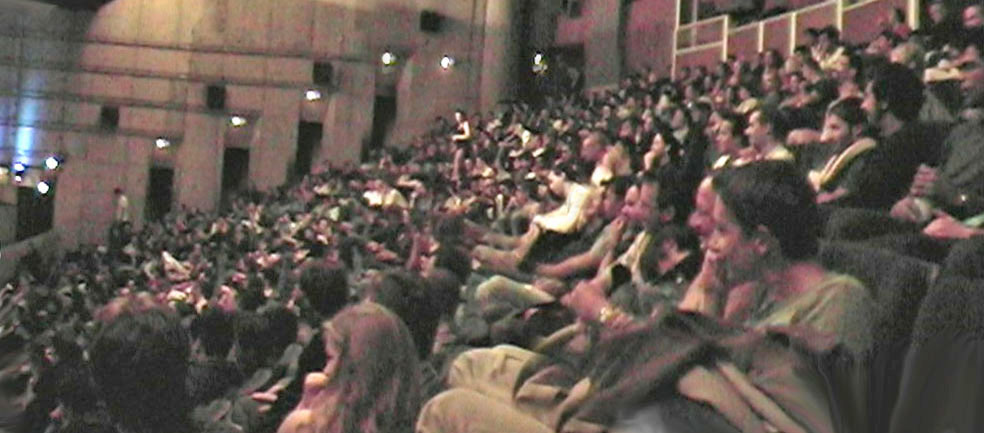 6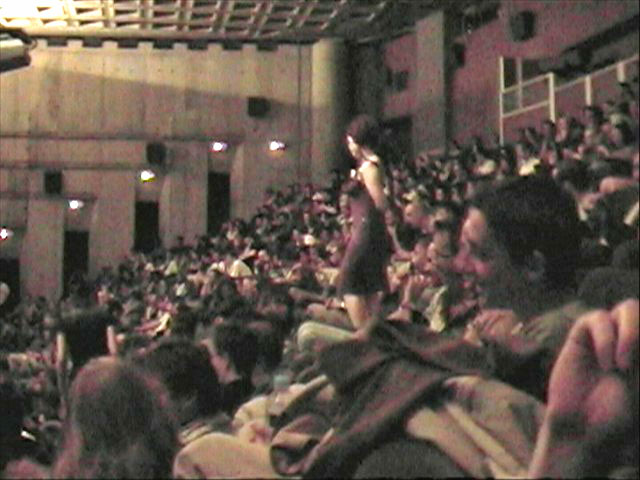 7

8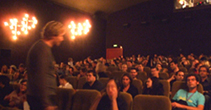 9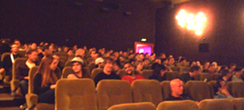 10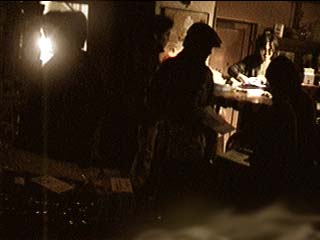 11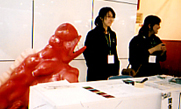 12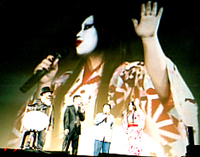 13

14

15

16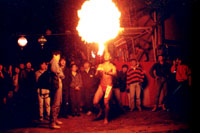 17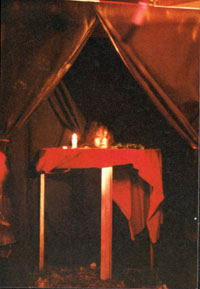 18
1,2:Berlin International Film festival, 3:Hong Kong International Film Festival, 4,5:Canada Montreal Fantasia Film Festival, 6,7:France Etranger Film Festival, 8:Croatia Animafest Zagreb, 9,10:Swiss Fantoche, 11:Tokyo Uplink, 12,13:Tokyo International Fantastic Film Festival, 14,15:Tokyo Nanbara-Kikaku, 16:Tokyo Suzunari, 17,18:Tokyo Ontake-Jinjya